DETAILS OF BOOK: PUNK THE BEST OF PUNK MAGAZINE (2013)
AND INTERVIEW WITH JOHN HOLMSTROM
1) BACK TO INDEX PAGE OF SHOW REPORTS OR
2) GO TO MAIN PAGE OF MY RAMONES SITE.
3) READ MY INTERVIEW WITH JOHN HOLMSTROM.


---


Copyright 2013 -> : John Holmstrom, Joe Finnegan and Jari-Pekka Laitio-Ramone / Ramones.kauhajoki.fi.
Thanks as well to Patricia Ragan.

DETAILS OF BOOK:
John Holmstrom was main man behind of creating Punk magazine in 1975. Legs McNeil was second man. Punk published 17 issues between 1976 and 1979, one special issue in 1981 and few in 2000's.
There were lot material related to the Ramones. Holmstrom saw the Ramones for the first time at CBGB's in the summer of 1975.
Just got published The Best Of Punk Magazine book. Publisher is HarperCollins Publishers. A book launch was at the Powerhouse Arena in Brooklyn, NY, USA in January 11, 2013. You can read story of it below.

Other book party events include John Holmstrom appearing at MoCCA Arts Fest, Armory 68 Lexington Ave, btw E 25th and E 26th St., New York, USA on April 6 (11AM-6PM) and April 7, 2013 (11AM-6PM).

The Best of Punk Magazine
was five years long process. It is featuring lot material from original issues, behind-the-scenes stories about every single issue, with dozens of unpublished photos and drawings. Book has centerfold photos of the Ramones and Niagara from Punk magazine 1, Iggy Pop interview from Punk magazine 4, Patti Smith interview from Punk magazine 2 etc. Here are some information by John Holmstrom of "Ramones movie" Rock'n'roll High School movie.:
- Never-before-published interview with Joey Ramone includes dozens of photos taken by Joey himself during the shooting of (movie) what has been called Roger Corman's favorite film (of all the movie he ever produced!)!!! Many photos in color.
Buy book from: The Amazon.com
or from Amazon.co.uk.
---
STORY OF EVENT BY JOE FINNEGAN
On Fri. 1/11/13 the launch party was held for PUNK The Best Of Punk Magazine book compiling 18 issues of the legendary magazine created by John Holmstrom and hometown friends Ged Dunn and Legs McNeil which chronicled the early CBGB/ Max's punkrock scene in NYC and who's story in issue #1 helped get the Ramones. signed to Sire records.
The celebration began at 6pm and many of the now famous contributors were on hand to sign books for the jam-packed crowd at Powerhouse Arena, a beautiful bookstore/art/performance space in DUMBO Brooklyn.
Joining John Holmstrom at the signing tables were Roberta Bayley, Bob Gruen, Godlis, Mary Harron, Robert Romagnoli, The Dictators' Andy Shernoff, Manic Panic's/Sic Fucks. Tish and Snooky, Joe Stevens, Spencer Drate, Mickey Leigh (brother of Joey Ramone), Bridget Hurd, Bruce Carlton, and Jolly the resident punk. These were the artists, writers, film makers, musicians who contributed to or were featured in the magazine whose stories, photos, and art had such an impact on so many of us!
In the audience were photo legend Marcia Resnick, members of the Bullys, other NY luminaries and just the coolest fans on earth! (like at a Joey Birthday Bash!) There was Bossa N'Ramones on the soundtrack and a Manic Panic hair-dye station where people were getting a quick punk makeover! There was a slide show with rare archival images narrated by Holmstrom and iconic Punk Magazine art and photos on all the walls. A great party! And so worth it - the book beautifully edited and printed is $30.00 US, from HarperCollins Publishers and is a MUST for any Ramones fan!

Text is written by Joe Finnegan.

INFORMATION OF PHOTOS (SEE IN RIGHT)
Finnegan had no chance to send photos so I looked some photos taken by me from my archives. You can see in right photo of John Holmstrom with Ramones fan Maria Patellaro and in another photo Richie Stotts of The Plasmatics and Finnegan who wrote this story. Btw, look similarities of Richie and John in those photos.


---


INTERVIEW WITH JOHN HOLMSTROM BY JARI-PEKKA LAITIO-RAMONE (APRIL-SEPTEMBER 2013)

Jari-Pekka: 1) How you do feel, were you and Legs McNeil first people to use word "punk." Can you describe background of idea of using word punk?
John Holmstrom: Well, sorry to say, we were hardly the first people to use the word. The first use I saw was Frank Zappa's "Flower Punk" on "We're Only In It For The Money" (1968). Several years later, Alice Cooper was "Punk of the Month" in Creem magazine, which also labeled so many bands as "punk." Suicide billed themselves as a "Punk Band" in 1970.
Legs was never into music, so for some strange reason he thinks he invented the term "punk," and as more of the truth comes out, he just sadly clings to the idea that he invented "punk rock." I wish he would stop doing so. As I keep telling him, his greatest triumph was to call "punk rock" a social movement and to call himself the first "punk." Legs started the "punk movement!" What is weird to me is that Legs' contribution to society as the "first punk" is so much bigger than naming the magazine. But instead, he clings to the idea that he named the magazine. But Legs is a weird guy.


Jari-Pekka: 2) Thanks for explaining about real situation of background of people using word punk and punk rock. That will surprise many people.
But, can you please explain more your thoughs of this your line: "What is weird to me is that Legs' contribution to society as the "first punk" is so much bigger than naming the magazine."
Btw, was Hilly Kristal really throwing Legs out from CBGB's in early days, as is posed in a first photo shoot Roberta did for PUNK magazine.
John Holmstrom: This is an important distinction in the history of punk rock: Legs didn't name the magazine, he didn't think of the name for "punk rock," and in fact, he didn't have a whole lot to do with starting the magazine. It's often difficult for me when people ask me about how I started the magazine. Just last night, someone asked me if I worked for Legs McNeil back then. He could not comprehend that Legs worked for me and Ged and that I actually started the magazine.

However, like I tried to explain in the magazine, Legs came up with the idea of launching "The Punk Movement." He was the first person to invent himself as a "punk." Before Legs, punk rock was a vague term that described music inspired by The Stooges and other grungy glam bands.
This idea: that "punk" was a new social movement, is a big reason why the media descended on Punk magazine back then. We were the first entity, band, magazine, club or whatever, that promoted the idea of a person being a "punk" instead of a "hippie." This was a natural progression, it didn't come from Legs' imagination (although he seems to think it did, for some odd reason). My main point is that this became an important part of the whole punk rock scene, and how and why it exploded in England, especially when the Ramones toured there in 1976. We really did set the stage for all this to happen. The CBGB scene treated us as a joke, there weren't a lot of true punks here in 1976, but London embraced the idea.


Jari-Pekka: 3) Btw, was Hilly Kristal really throwing Legs out from CBGB's in early days, as is posed in a first photo shoot Roberta did for PUNK magazine.
John Holmstrom: The photo of Legs getting tossed was for a photo comic that never came together. As I said in the book, this was to be Roberta's first job for the magazine, but since we never were able to use the photos I promised she could get our next big assignment. This turned into the famous Ramones photo shoot for PUNK #3, which ended up producing the image for the Ramones' first record cover.


Jari-Pekka: 4) You wrote in third issue, the whole reason your magazine was called PUNK was because of the Ramones.
John Holmstrom: Yes, the Ramones were a huge reason the magazine was called PUNK. When I saw the band in August 1975, I heard the song Judy Is A Punk, and that was a big reason to call the magazine "punk." However, the Dictators also used the word in some lyrics. But to me, they were the two most important bands in the world back then. And I think I was right. The thing is, by November 1975, the Dictators had broken up, and we were told they would never perform again. So the Ramones were the only punk rock band around, when you think about it.
People back then HATED the magazine because we mostly covered the Ramones, the Dictators, Richard Hell, Patti Smith and Blondie. They thought we should spend more space on bands like The Fast, Television, The Planets, The Miamis, The Mumps, Wayne County, The Heartbreakers, The Brats, Milk 'N' Cookies, etc. etc.
I think we were right to concentrate on the bands we thought were the best. The Ramones, early Blondie and the Dictators were punk, most of the other bands were glam bands. Nothing wrong with that, just not right for a magazine named "PUNK."

Jari-Pekka: Emily Xyz was one of those you got hooked to scene in 70's. She tells in my third book Ramones: Soundtrack Of Our Lives for example: "After sitting beside John Holmstrom for a few days and hearing this tape (Ramones debut) about 100 times, I surrendered unconditionally!
Holmstrom used to play a tape of the Ramones. first album over and over and over again as he hand-lettered and pasted up the magazine's pages, so that's how I first heard them.", told Emily Xyz, who later did Illiterature zine etc.


Jari-Pekka: 5) Did Seymour and Linda Stein really said PUNK issue one was one reason why they signed the Ramones?
John Holmstrom: Danny Fields (Ramones manager) did say to me that the story written by Mary Harron helped convince Seymour to sign the Ramones. I heard this from Danny, and people have told me that Seymour confirmed it. There's some doubt about this because some stories say that they signed with Sire before the magazine came out. On the other hand, that centerfold story was printed before the magazine came out, it was given to the Ramones in mid-December of 1975, and so I think this was something that helped convince Seymour to sign the band.
Mary's story was that good - and the photos were also amazing, IMHO. I heard it was like the straw that broke the camel's back - the final reason. It certainly wasn't the only reason, there were already a lot of labels, producers and industry people interested in the Ramones.


Jari-Pekka: 6) What 2-3 issues are mentally most important to you and why?
John Holmstrom: Wow! Well, that first issue was so important. For PUNK #1, everything came together and that interview with Lou Reed has become so classic. People said back then and say now that this was our peak. I can't argue with that - to me Lou Reed was the apex of rock music, and my interview with him captured that moment.
The other issue I like so much is PUNK #15: Mutant Monster Beach Party. I am not the only person who considers this as a classic, not just for PUNK but for all magazines published in the 20th century. It starred Joey Ramone and Debbie Harry as star-crosed lovers, and Andy Warhol as a mad scientist. Lots of other CBGB people appeared in it, like Paul Zone, Lester Bangs, Tish and Snooky, even John Cale!

The other issue I like so much is PUNK #14. The Sex Pistols Tour. I was so unbelievably lucky to be on that tour. All I wanted to do was to see the Sex Pistols once before I died but instead, thanks to Tom Forcade, the founder of High Times magazine, I got to see the whole tour. And what a tour it was! I have to think that the Sex Pistols US tour in 1978 was the greatest in rock and roll history. Having a front row seat, and being able to report on the tour, and having my article named "the definitive account" in several reports was beyond amazing.

My biggest regret is that I had front row seats for a Runaways/Ramones double-bill at the Palladium/Academy of Music! And had to decide between the two. Of course, in 1978, as a journalist, I had to follow the Sex Pistols. On the other hand, since I had just contributed the album cover artwork to the Ramones "Road to Ruin," how could I skip their concert?
Feel free to tell me what YOU would have done. I am still torn by my decision.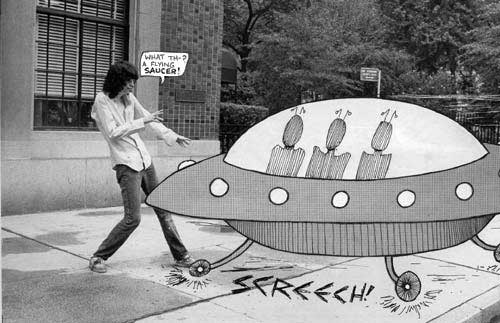 Jari-Pekka: 7) Can you recall memories what Debbie Harry (Blondie etc.) and Joey Ramone thought after you told of your idea of Mutant Monster Beach Party?
Like Joey being a surfer kid, Joey wanting to fight with monster after monster ate kids... I think Joey loved to be in a fantasy world of Mutant Monster Beach Party? (See photo in right featuring Joey).
John Holmstrom: I think what people have to realize when it comers to material like Mutant Monster is that Chris Stein (Blondie etc.) and Debbie were so involved, on a very intimate level. The genesis took place at the "World Sleaze Convention" in Wilmington, Delaware, USA, during Labor Day weekend in 1976. Edie "The Egg Lady" was the headliner while Legs and I were special guests. Debbie and Chris drove all the way down from NYC to be a part of the event, mostly because Rondo Hatton, who was a favorite of Chris Stein, appeared on the cover of the event program.
I describe some of the crazy stuff from that weekend in the book, and also told some stories in a magazine article that was published in the "National Screw" magazine, published in 1976.
Anyhow, that was the beginning of Mutant Monster Beach Party, and once we worked out a script and the story boards we shot all the photos in the summer of 1977. But it took another year to add the artwork and dialog to the photos!

Joey loved being a part of Mutant Monster Beach Party. Then again, he always loved being a part of PUNK magazine. My fondest memories are when Joey and I stood court at CBGB in the early days, meeting media people from all over the world who wanted to cover the punk phenomenon. It was amusing to both os us, and a lot of fun, to promote each other. It would be like: "Ha! These people came to CBGB's because they heard of PUNK Magazine!" or "OK! These people are here because they heard of the Ramones!" But it was never, ever competitive. Instead, we were both amazed that this was all taking place. And we were so happy to help each other because we knew that it was helping the magazine, the band, and the whole CBGB scene.
So by the time we did Mutant Monster Beach Party, and Joey was cast to star in it with Debbie Harry, he jumped right into the deep end of the pool, so to speak. He wrote lyrics for the theme song (which ended up in Danny Says), he suggested casting ideas (like Mickey Leigh and Arturo Vega for the UFO crew - the scene he suggested for the script), and basically did everything asked of him to help us make it happen. No one was happier that Joey once it came out.
I do not think Joey was a surfer, really. But I think he really enjoyed playing one in the photo comic/fumetti. After all, we all loved the 1960's surf music and the Beach Boys so much. I think Joey knew this was a tribute to all the pop/junk culture of the 1960's.

The weirdest thing is that this issue Mutant Monster Beach Party was the worst-selling issue we ever did (along with The Legend of Nick Detroit, issue #6, which starred Richard Hell). These two issues sold terribly, but the other hand, all these years later, these are the issues that everyone likes the most!



Jari-Pekka: 8) It was really surprising to hear of Mutant Monster Beach Party issue being the worst-selling issue you did.
Can you please tell how hard or easy it was to get distribution channels to first issues in other cities in the USA, in UK etc.? In how many countries distros were selling issue like 10#?
John Holmstrom: Yes, getting the magazine distributed back then was always the most difficult part, and in fact it is still the most difficult part for anything creative, as I am sure you know. Unless you are a big-time publisher in the USA and publish several titles every week/month, you can't get a magazine on newsstands. For a while, we had High Times magazine helping us, but without them we would send magazines to a town like Cleveland, where we got so many people asking for it, and the sales reports would come back that we sold two percent of the magazines we sent out.

We did have a list of a few independent distributors and record stores around the world, so we always had around a thousand or so loyal places where the magazine would sell, but it was very expensive to print the magazine and keep a phone line and pay the energy bill and the rent for the office.
If we had published the magazine on cheap newsprint paper, which yellows after a few weeks, we would have been better able to stay in business. But then the back issues would look like crap now. We depended a lot on those back issue sales, and it was also a reason we could charge extra for advertising, and expect better distribution.
So, for PUNK #15, we had great distribution, and good printing (four color cover!), and the best issue of PUNK we ever thought we had published in Mutant Monster Beach Party, and it sold under 20% at the newsstand? It just kicked my ass. The printing was so expensive we would have had to sell every copy to pay for it. So this wasn't just a "bomb," it was like "The Atomic Bomb."


Jari-Pekka: 9) First issue seemed to sell well. In number six you are selling issue one with 25 US$ and back issues of 2-5 with 2US$.
John Holmstrom: As far as the first issue collector item status is concerned, we printed 4,000 copies of PUNK #1. Most of them went to a newsstand distributor. Like most newsstand distributors, they sent a small number to sales locations and the rest were warehoused. Meanwhile, back at the office, we sent out so many copies of PUNK #1 to people that suddenly we just ran out! At one point I think we only had five or six copies left. So when people asked to buy one, we set an impossible price: $25. That's more than $100 in today's value.


Jari-Pekka: 10) Debbie Harry and Chris Stein of Blondie wrote really nice foreword to the book and captured what kind of outsider place East Village was in 70's?
John Holmstrom: Debbie and Chris were so important to the magazine, and therefore to the development to punk rock itself. I was angry when they went disco and moved onto rap music, but there's no denying their talent and vision. All these years laters I see their genius in recognizing talent before it took root.


11) Do you remember something special how Joey Ramone, Johnny Ramone and Dee Dee Ramone reacted to Punk magazine and supported?
John Holmstrom: Joey was always so supportive. In fact - here's something people do not know - he wrote the fan letter from "Judy The Punk" that appeared in our first-ever Letter page in PUNK #2. He constantly sent letters and postcards, hoping to get them published. He helped set up interviews, and most important of all he would tip us off to bands we should cover, like DEVO and the Dead Boys.
I had very little contact with Dee Dee and Johnny, they were a bit suspicious of the music press. But of course Johnny hired me to do artwork for Rocket To Russia and Road To Ruin, and was always supportive of the mag. We were always given special treatment by the band, I went to many shows in the van or given free tickets. We had a very special relationship with the Ramones.



12) Of what cover illustration you has got most positive feedback?
John Holmstrom: Actually, not a record cover but the cover of PUNK #3 has received the most attention recently. It was featured as the main icon the "The Downtown Show" when it was exhibited at the Andy Warhol Museum several years ago, and the CBGB filmmakers recreated it for the film using the actor who plays Joey! And then I redrew the cover image as if it took place in CBGBs for the film. That was a weird experience. Anyhow, I tried to honor many bands that played CBGBs in that drawing, so even tough it is not visible in the film itself, I hope people will enjoy the image later on. Maybe as a DVD extra or something.
The other PUNK magazine images that receive a lot of attention are PUNK #1 (Lou Reed) and Iggy (PUNK #4). Also, PUNK #6 (Nick Detroit, starring Richard Hell).


13) Which cover illustration you would like to re-make and why?
John Holmstrom: None.
Well, none from the 1970s. I wish I could re-do the cover with The Bullys (PUNK #19). That was a very difficult issue to produce. I remember I had to download the Adobe InDesign program and learn how to use it in just one week - I had been preparing to send them actual art pages (analog), but they wanted everything in PDF format. What an awful, horrible development digital technology has been.


14) Bobby London is one of those who did drawings to early issues.
John Holmstrom: Yes. I was a big fan of Bobby's underground cartoon work, as well as his comic strip in the National Lampoon. So I explained to Joey and Arturo that he was a V.I.P. and deserved a lot of respect. And they followed through. And Bobby became a very important contributor to PUNK magazine, he did a lot of classic work for us, like the cover of PUNK #10 (Blondie, he was a huge fan of Debbie Harry), and "Mutant Monster Beach Party" (PUNK #15).


15) Can you tell something of Arturo Vega, like something what you discussed being really inspiring to each other of your works?
John Holmstrom: Arturo was actually a bit jealous when Johnny approached me to do work with the Ramones. Arturo thought my work was "too cartoony" and preferred a more serious expression. After all, he was hired on to be their Art Director, and while I respected his position, it was obvious that Johnny was calling the shots.
Of course, I always liked Arturo's work with the Ramones. His early work is one of the reasons I was so interested in them: A band with their own Art Director? How great is that! Plus, the images he produced for the early posters and that first record cover were so stark and sort of menacing. Not to mention that everyone loved his Ramones' T-shirt designs.
Arturo, being the nice guy he was, got over his jealousy most of the time. I remember when he gave me the first run of the t-shirt for "Rocket To Russia," which featured my pinhead drawing. It looked great, and Arturo was so happy to give it to me. It was like, "Gabba Gabba, I accept you."

For the most part we got along great, and I think that over the years, Arturo understood that when the Ramones attracted world-call artists to work with them, it increased their "brand recognition" and all that stuff. You know, Jef Koons did a record cover with the Ramones, and I think Arturo might have even had a had in getting him to do it, and I have seen a quote from Koons where he says this was his favorite thing ever, the one work of art he was most proud of: A Ramones record cover. And this guy just had one of his sculptures sold for millions and millions of dollars!!!
Pretty cool, right?
Then there's the Richard Hambleton Ramones painting, etc. I think Arturo somehow nurtured that as well. Altogether, Arturo did a lot more for the band than many people realize... But so did Johnny, who in my opinion did a lot behind the scenes to manage the band and move them in a good direction.
I still wish they would have hired a bongo player in the early 1980s, though...


16) How you see Arturo's significance to punk scene, he was from the beginning in a middle of NYC scene and was encouraging for so many.
John Holmstrom: I think i answered that. But the amazing thing about CBGB that you must remember is that there were amazing creative people everywhere you looked. Mary Harron, future filmmaker, rubbed shoulders with Jim Jarmusch. So many musicians launched their careers there, not just in the 1970s but in the 1980s: Beastie Boys, Rob Zombie, The Might be Giants, etc. etc.

Interview will continue.
Thanks John Holmstrom.


---


1) BACK TO INDEX PAGE OF SHOW REPORTS OR
2) GO TO MAIN PAGE OF MY RAMONES SITE